Flat and steeplechase events are held at the second biggest racecourse in the world. And dual SA champion jockey Lyle Hewitson has two feature rides there this weekend.
Nakayama Racecourse, officially opened in 1920 in the city of Funabashi, ranks second in capacity to the world's largest, Tokyo Racecourse, built in the 1930's.
Some of the biggest Thoroughbred racing events in Japan are hosted at Nakayama, where 165000 fans once gathered to shout the winners home.
The Japan Racing Association owns and operates 10 racecourses.
Lyle Hewitson, who rode his first Gr2 winner in Japan at Nakayama, in rides Cagliostro the ¥117,540,000 (equivalent to R19 500 050) Gr2 New Zealand Trophy on Saturday.
The 3yo (geldings excluded) race will be run over 1600m.
He also rides Turavesula in the Listed Spring Thunder Stakes at the same venue on Sunday.
Lyle is expected back in South Africa at the end of April, but with the lockdown extended no information was available on his plans.
‹ Previous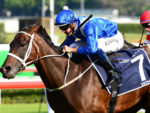 Hats Off To The Aussies