With the Mauritius national lockdown extended to 15 April, Gujadhur Stable jockey Olivier Placais left the Indian Ocean island for France last week.

The Gujadhur yard has temporarily suspended the training of their horses. The first local meeting was scheduled for 28 March.
It is not known what Placais' intentions are.
After a good last season on the island, Plaçais finished fourth on the log, riding 22 winners at a 17% win strike-rate.
He had already been preparing for the new term and had been there since the beginning of March.
The former Jean Lesbordes – of Urban Sea fame- apprentice jockey terminated his Singapore contract at the end of their 2018 season to join Gujadhur.
He first landed in Singapore at the invitation of ex-Kranji trainer Arnaud de Moussac as a fresh-faced apprentice jockey just out of his time from 2002 to 2003, before returning in 2009-2012 and for a final stint in 2016-2018.
The French jockey from Angers is popularly known as 'The Conductor' due to the way in which he vigorously wields the whip like a baton.
There is no finality yet as to when the Mauritius season will commence.
‹ Previous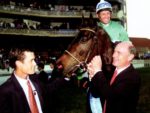 The Last Rothmans July