Richard Fourie has been keeping busy during racing's enforced break.
Tabnews reports that Justin Snaith's stable jockey is a dedicated family man, and has been at home with wife Tatum and their children.
"I've been swimming a lot to retain fitness. Weight wise I eat fish and chicken and lean meat, and only two portions a day so it's well under control.I'm not someone who goes to gym, as I bulk up easily which would lead to weight problems, so that's not something I have lost in terms of conditioning.
"Luckily I don't have a sweet tooth, and my cheat would be something like a piece of biltong."
And he has resumed riding work in preparation for the return of racing.
"It's been difficult to get to Philippi due to the restrictions. But I rode work again Tuesday morning– after going through three roadblocks.
"The horses look fantastic. The level of fitness is definitely there. Justin is running a tight ship, and I take my hat off to him. All the grooms have gloves and masks, but apart from that not much has changed.
"As for myself I feel better than before. I was carrying a few little niggles but now my body has fully recovered."
And this responsible citizen has a message for the racing public.
"It's frustrating at this time, but we're all in this together and I would like to appeal to everyone to listen to what the  President says. Practice social distancing and keep to the rules of the lockdown. We will come through this."
‹ Previous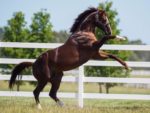 Stallion Fees Set For Review?