The Covid-19 pandemic has forced the South African Jockey Academy to suspend interviews for the 2021 apprentice intake
"We had originally scheduled recruitment interviews for 28 March in Johannesburg (Turffontein racecourse) but were not able to go through with them because of the virus," riding master Robert Moore told Tabnews.

"Once everything gets back to normal – hopefully sooner rather than later – I will travel to Durban to meet with the management team and carefully deliberate whether or not we are even going to proceed with this process this year. We're obviously all hoping it happens, but only time will tell at this point."
Should there not be a class of 2021, this would be a massive blow to racing because the Academy is the only institution in the country that offers youngsters an academic and practical apprentice programme to qualify as professional jockeys.
"Fortunately for us, under government's guidelines we are considered essential workers so we have been able to work," confirmed Moore when talking about his team and the current apprentice jockeys under his care.
"The work actually never stopped for us. We take part in the starting stall certification sessions (held at all centres) every Thursday and we work horses every day. Some of our apprentice jockeys did go home as families were worried about their safety," admitted Moore.
‹ Previous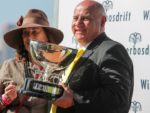 Peter & Pudding Are Ready