The subject of top jockeys is one that could keep us tied up all day in debate.

Lucky Nicolaides has a treasure trove of pics at home and he sent us this one of a race back in 1977.
The jockey board in the background caught his attention.

Were there any top guys on there?
This is the race detail for interest's sake:

‹ Previous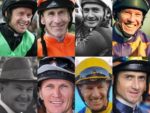 Jockeys – Who Was Our Greatest?