Globetrotting 2016 J&B Met winner Smart Call has settled back at her Mauritzfontein birthplace accompanied by her Kingman foal.
"She spent a month in quarantine in the UK, another month isolated in Gauteng after flying in, and got here last Tuesday" commented Steven Jell on Monday.
"We had to get permits for the truck from Joburg during the current lockdown, but everything went smoothly. Her Kingman foal is a filly named Call To Glory, and she is believed to currently be back in foal with a Kingman colt, but that must still be verified.
"She's pretty chilled and has obviously been here before so has settled well. But she has to be kept in our quarantine station until she has foaled down as per government regulations.
"That's only going to be in August, but she wont be alone as she has her travelling companion Banbery with her.
"Banbery has arrived with an Oasis Dream foal at foot, and is believed to be in foal to Sea The Moon, a son of Sea The Stars.
Mauritzfontein is a working farm, and remains active.
"Life carries on here. Obviously we are very careful about personal contact, and far stricter than normal about human traffic in and out. But farm life in Kimberley is isolated anyway, so we are in a better position than most" he says in conclusion.
‹ Previous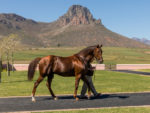 Flower Alley's Hanshin Gr1 Strike