All TAB bets on Race 5 at Albion Park in Australia today, 18 April 2020, including the Jackpot on the meeting, had to be refunded.
Due to a brief communication link failure beyond TAB's control, host tote Tabcorp did not receive the final pool totals and automatically excluded all TAB bets on the Jackpot, relevant Rolling Doubles and the race itself.
All these TAB bets were then refunded to customers in terms of the rules.
Press release by TAB on Saturday 18 April 2020
‹ Previous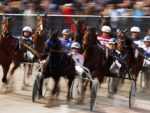 We Hope For A 1 May Comeback