South African horseracing has reached the crossroads. Years of questionable decisions, a deterioration of respect for the spirit and ethos of the game, the increasingly diverse options open to the leisure rand and plain economic reality have wreaked havoc.
Then along came COVID-19 and the gun went off.
Passionate racing man and owner Joao Da Mata tells the Sporting Post that he hopes to ignite new hope for unity amongst likeminded folk who have the best interests of the game at heart.

"Simply put, we are forming a nationwide trainers and owners group. Our mission is to grow to large enough numbers that we can gain a foothold in negotiations with regards to the long term sustainability of the sport of horse racing and its associated by products.
He admits that the industry faces tough times ahead but in this particular instance he says it's the trainers and owners that are required to continue to provide the product for the show to carry on and provide it under tougher financial circumstances.

"The leisure rand will be slashed once this crisis is over but horse people will always be horse people and the current business model needs overhauling."
He tells how every trainer he has spoken to happens to be an owner as well and every single one of them is happy to take 10 steps back provided they all can see that NEW leaders have a plan in place for the industry to eventually become at least financially more stable.
" Prior to CV19 it was already tough for many in the industry. I am asking you and everyone out there to consider joining us. We will not disclose members names until we reach critical mass.We will respect everyone's privacy and when we reach our desired number of members (FREE) we will elect a board. We will then start to negotiate.
"I am stating for the record that this has been tried before and it has failed. Even the RA could never gain mass numbers. The RA , for reasons well documented, was included in conversations from the start and remained there to represent ALL owners when indeed they did not."
Joao says his role in this process is quite simple.
"I will collate all this data and keep it safe. I will continue to lobby non members and once this is ready to be launched I will allow democracy to take place and we will elect our board."
He points out with enthusiasm that this needs to be a non profit non dividend business.
"We will all have duties to raise funds in the future but for now I think owners and trainers put in enough already. All we need is a vote."
He is confident that the numbers will grow.
"History tells us that any previous body that has been attempted was done so with unclear agenda's. So for us , we are hoping it's just a matter of time before we hit sufficient numbers."
‹ Previous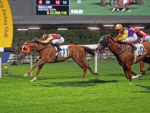 Looking For Happy In The Valley