It's always been a favourite and the 1989 Winning Form Challenge match race between the filly Northern Princess (Michael Roberts) and Senor Santa ( Gavin Howes) is worth another watch.
Gold Circle Publishing Head Andrew Harrison reminds us that Hollywoodbets Greyville was 'overflowing' that day.
The movie is at the end of this editorial.
Martin Locke, who recently celebrated his 80th birthday at Avontuur, sets the scene and it's good to the late Hennie Pietersen in action, too.
A former Afrikaans racecaller – some of you may remember horses like Kolskoot and Blommelied – the man who started Radio Good sixty years ago passed away in 2012.
Hennie went to school at Helpmekaar Seunshoëskool Johannesburg.  From a very early age his dream was to become a commentator.
After he matriculated he worked with his father at a storage company. Two years later he went for an interview at the SABC.  After three years working as a controller in the news/music room he got his chance as commentator.
Hennie was the first Afrikaans Commentator to broadcast the Durban July for 21 years.
He went to Hilversum in Holland at the World Wide Commentator Station where he worked with amongst  others, legendary SABC newsreader,  Riaan Cruywagen.
Hennie started Radio Good Hope in 1960.

In 1969 he married Judith Jarvis, a model as well as one of the first Trust Bank beautiful front-line girls made famous by Jan S Marais. Together they worked as PRO's in their personal capacity and had the chance to meet many famous people from all over the world. They never had any children.
Hennie was MC at various social/sports occasions amongst other; Miss South Africa for many years and later as commentator and MC at the J&B Met.
In 1990 he was appointed as PRO at Gilbeys in Stellenbosch.
In 1999 he was named Media Liaison Officer in the Western Cape for Supersport where he worked until he passed away.
Hennie was the architecht of the 'Let's Play ' concept. This was an initiative that supported the growth of youth through the development of sport in South Africa. He started the concert  in Stellenbosch with Vaughn Bishop and it spilled over quickly into the towns of  Malmesbury, Vredenburg, Paarl, Worcester and Hermanus.
Pietersen also wrote various articles for the Western and Southern Cape newspapers.
‹ Previous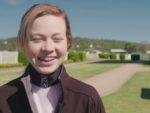 COVID-19: Zero Tolerance