Multiple Northern Cape Champion trainer Cliffie Miller heads a quartet of Flamingo Park trainers who may be taking up residence at the Ashburton Training Centre outside Pietermaritzburg soon.
The charismatic Hollywoodbets-sponsored Kimberley veteran told the Sporting Post that he was considering a possible move if Northern Cape racing ceases to continue.
The likely quartet for KZN could include Jarett Rugg, Tienie Prinsloo and Sarel von Willingh Smit.
Approximately 120 horses could  be  set for the interprovincial move, of which Cliffie Miller trains 52.
A decision was awaited from the racing operator in the next few weeks.
In the broader picture, the issue of rationalisation of racing centres, must be high on the agenda for forward planners in South African at the current time as the structures crumble under the pressure of years of crisis management, and a general lack of urgency and assertion in making the really tough and unpopular decisions when they needed to be made.
How many jurisdictions can we really maintain at profitable levels? Maybe three?
East Cape racing must be under the spotlight, with a recent suggestion reaching us that PE needs to move to Cape Town, with Milnerton being developed and trainers split between Philippi and Durbanville.
The harsh reality is that it's all about survival and we are all going to have to adapt quickly. Or become a statistic in the history books.
Ed – this editorial has been revised from the original after a miscommunication
‹ Previous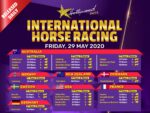 The Friday Racing Menu