Patrick Labuschagne and Peter Dillon are fondly remembered charismatic personalities of the recent yesteryear. The duo teamed up to pull off what is surely one of the great interprovincial raiding assaults in the past thirty years of feature racing in this country.
Clairwood Park was the scene of a remarkable run by the Cape-based On Stage gelding Hainan Dao in the 2 400m Gr2 Premier's Gold Vase on 27 August 1994.
A first emergency acceptor for the race, Hainan Dao secured a run a little more than 24 hours before the event after the late defection of Zimbabwean entry San Vito.
After a frantic float trip from Cape Town, trainer Pat Labuschagne and his charge arrived at Clairwood Park only a few hours before the race.
Hainan Dao inherited San Vito's jockey Peter Dillon and, none the worse for the long haul, moved up smoothly in the straight to take over from the pace-making Royal Voyager inside the final 100m.
He held off a late rally from the hot favourite Fire Arch (NZ) to win by a head with Art de Vivre third. The winner paid R48 the win.
Watch the replay here – courtesy of Byron Forster
The race also produced an objection against pace-setting Royal Voyager, who was fourth across the line.
Shifting in from the whip in the closing stages, Royal Voyager was responsible for a chain reaction which saw Double d'Or, Flaming Axe, Conman and Spring Hill all running into trouble.
With the objection upheld and Royal Voyager demoted to last, Spring Hill was moved to fourth and Double d'Or fifth.
Has there been a more inspired interprovincial raid in the past thirty years?
‹ Previous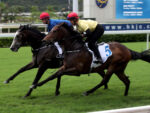 SA-Breds Represent Quality