These are extraordinary times. Somebody once likened sport without a crowd to going on a romantic date without the date.
While some of us may have had the experience – being stood up, we mean – it's terrific to have racing under way on Monday and an owner has written to the Sporting Post Mailbag asking for a fair chance to see his horse,

Joao Da Mata addresses an open letter to TellyTrack:
So the good news is we are racing again.
The bad news is owners are providing the product and cannot attend racing. Unprecedented times call for lateral thinkers.
With that in mind, I thought I would write this and ask the wonderful Sporting Post to publish my suggestion.
All I'm asking is:
1: Can we get at least 90 seconds footage of EACH horse in the parade ring?
2: Can we get to watch the canter down of each horse?
You don't know, but for us, the backbone of the industry, one of the very few pleasures of owning a racehorse is seeing it.
Ed – we have passed Mr Da Mata's request on to Tellytrack and GTV.
Pic for illustration only – kind courtesy Candiese Lenferna
‹ Previous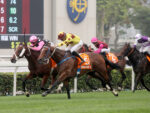 Southern Legend's A Fighter