I am very disappointed with some of the comments which followed the Mike de Kock interview.
I think it brought out the ugly side of all of us. I don't blame anyone. It's the Lockdown hurting us, not only financially, but emotionally, writes Roy Jaan in the Sporting Post Mailbag.
I don't like to see a person so severely reprimanded whether its Mike de Kock or Simple Simon.
I'm not an expert on human behaviour but I see that the Lockdown is dividing us in a very damaging way.
I think business and sports types are optimists. Positive people.
On the other hand you have the pessimists. The fearful people.
So at the moment it seems to me that this whole issue – whether the Lockdown should stop or continue – boils down to a battle between positive and negative people.
I also want sports to resume. So I'm also disgruntled.
But I think our leaders should negotiate in a calm and dignified way.
Not going to the negotiating table full of anger and with no respect for the other parties.
But as I said, it's not us. It's the effect the Lockdown is having on our temperament.
I think being horse people, they should know better. If a horse doesn't want to listen to you, you have to wait until he's ready.
On the positive side of an ugly debate, I think it was a great debate.
It showed independent thinking. If someone who doesn't know horseracing read it, they will see that we are not sheep, but smart and sharp people.
Thanks for a great website.
Ed – the interview clearly evoked an emotional reaction. We were obliged to discard many comments. It's a sensitive time for all as Roy points out. But we have to retain civility.
‹ Previous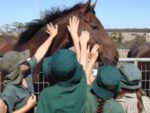 Living Legends Raceday On Saturday