South African champion jockey Lyle Hewitson will be be back on African soil by Saturday following a successful two-month stint in Japan.
"I was fortunate enough to get on to a repatriation flight from Japan back to South Africa via Doha," Hewitson told Tabnews.
"We leave today and should be landing back in South Africa on Saturday.Of course, after that we will have to go through the quarantine protocols but, nonetheless, it will be good to be back on home soil and get back into the swing  of things real soon. I must say, I'm looking forward to being home," said Hewitson .
Speaking about his time in Japan, Hewitson said he had enjoyed a wonderful two months.  "The food was amazing, the culture is really impressive, the people are so warm and respectful and it made settling in such a pleasure. In terms of the racing, it's been such a success, fortunately. I ended up with 19 winners, including two Gr2's. I've learned a lot, it's been a great experience and I look forward to putting that experience to use when I'm back in South Africa.Until then, let's all stay positive and hope we can get the show on the road, get racing going and help our industry to thrive once again."
With the powerful Northern Farm operation having first call on his services in Japan, Lyle put the memory of his frustrating Hong Kong stint behind him where his three winners from 225 rides, and a 140-ride drought will go down as school fees.
He is unlikely to return to Hong Kong in the near future as he just wasn't sought after.
Back in South Africa, racing remains suspended with little light on the horizon.
‹ Previous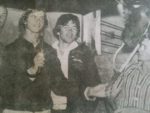 Lockdown Day 43 – Snap Puzzle