Dual SA champion jockey Lyle Hewitson said sayonara to his Japanese hosts and a glorious short campaign in the Land Of The Rising Sun as he rounded off a memorable visit in style by riding five winners in Tokyo over the past weekend.
After his Gr2 success on Saturday, incorporating a three-timer, he rode a double yesterday – including a memorable victory on his last mount, to end on 19 wins. That tally includes two Gr2 strikes.

Hewitson told the Racingplanet website that he had enjoyed an 'awesome time in Japan'.
"A great experience for me and the success was just the cherry on the top."
On Sunday he won the seventh on Asam Blue before rounding off the memorable trip by landing the final event on Satono Deed.
His 140 race losing drought in Hong Kong will never be forgotten as a character building exercise, and something that will stand him in good stead in a challenging sport. But the 22 year old champion must be feeling a lot better about life right now!
He is now due to return home.
Racing here is in limbo but hopefully we can look forward to the resumption of the SA Champions Season in a matter of weeks.
It was the very platform that gave the young man his maiden Gr1 success.
He shared the milestone with Undercover Agent's part owner Greg Bortz in the 2018 Gr1 Rising Sun Gold Challenge.
Doesn't it feel like yesterday? Watch it again!
Let's hope we can get the SA Champions Season rolling soon!
‹ Previous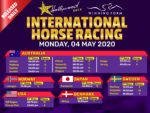 May The Fourth – Be With You!