One of the greatest thoroughbreds in history, Northern Dancer  would have turned 59 years old today.
Born on 27 May 1961, he was a small horse at 15.2 hands and was unruly and more interested in the fillies when at the races.
He was nearly gelded because of this but luckily the owner went against his trainer's advice.
In 1964 he became the first Canadian-bred horse to win the Kentucky Derby.
He went on to become one of the most successful sires of the 20th century. He is considered a Canadian icon, and was inducted into the Canadian Sports Hall of Fame in 1965. Induction into the Racing Hall of Fame in both Canada and the United States followed in 1976.
As a competitor, The Blood-Horse ranked him as one of the top 100 U.S. Thoroughbred racehorses of the 20th century. As a sire of sires, his impact on the breed is still felt worldwide.
Northern Dancer sired 635 foals: of the 488 that started in races, 368 were winners of which 146 were stakes winners. 26 of theses animals were champions in Great Britain, Ireland, France, Italy, The US and Canada.
Heading the list of champions was the first foal sired by Northern Dancer, Viceregal
Like his sire and great sire, Nearctic and Nearco, he had a mean streak and was very tough which helped on the track and the breeding shed.
The following was his racing and highlights from his breeding record.
1ST Kentucky Derby; Preakness Stakes; Queen's Plate Stakes; Florida Derby; Flamingo Stakes; Blue Grass Stakes; Remsen Stakes; Carleton Stakes; Coronation Futurity; Summer Stakes. 2ND Cup And Saucer Stakes; Vandal Stakes. 3RD Belmont Stakes.Horse Of The Year; Champion Twice. ETR GP 7.00f 1:22:2; NTR CD 10.00f 2:00:0. He was never out of the money in 18 starts.
Sire of 23 crops; 635 foals; 488 Starters; 146 black type winners; 368 winners; over $31.1 million; including Sadler's Wells (Champion; $663;423); El Gran Senor (Champion 4 times; $509;479); Northernette (Champion Twice; $404;914); Ajdal (Champion Twice; $383;227); Giboulee (Champion; $358;578); One For All (Champion; $349;205); Northern Trick (Champion; $334;359); Fanfreluche (Horse Of The Year; Champion Twice; $238;688); Shareef Dancer (Champion Twice; $221;533); Lauries Dancer (Horse Of The Year; Champion; $184;532).
In the 1980's Northern Dancer offspring were becoming so popular that the famous Robert Sangster set about buying up the stock and started the great bidding war with Sheik Mohammed.
Sangster however made the mistake that small horses were not  fashionable, even though Northern Dancer was small himself, and over looked one of his sons Lyphard, who went on to be horse of the year.
There were many small horses in Northern Dancer's pedigree. Selene was a small horse but was an outstanding racehorse and great dam to many US legends such as the famous Hyperion. He was so small at birth that the stable lads joked that he looked more like a golden retriever than a horse.
After losing Lyphard, Sangster made no such mistake with The Minstrel who was also small and went on to be the champion racehorse in the UK.
Northern Dancer died on 16 November 1990 at the age of 29.
‹ Previous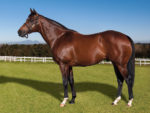 Oratorio – Japan Sale Representatives