Lyle Hewitson won the SA Champion Jockey title last season with 219 winners from 1558 rides for stakes of R27,5 million.
Looking back 27 years ago, Piere Strydom was champion jockey for the 92/93 season, winning 252 races from 1550 rides with stake earnings of R7 million.
The trainer's title that season went to Tony Millard, who had multiple Gr1 winners Empress Club and Rothmans July winner Dancing Duel in his care during the season. The Millard horses amassed over R4,4 million in stakes and won 73 races.
Sean Tarry won the SA Champion title last season with 165 winners earning R26 million.
Foveros regained the title of champion sire, with stakes of R3 million, just ahead of Secret Prospector and Northern Guest.
Highland Farms were the leading breeders, with R3, 9 million in stakes.
The highest individual stakes earners were Empress Club (R977 000), followed by Dancing Duel (R961 000), Cardinal Fury (R885 000) and Flaming Rock (R835 000).
Interestingly in the Cape, stakes were cut across the board as the two Club's financial troubles continue.
A new controlling body for racing in the Western Cape was also taking shape, and administrative functions between the local clubs were now being shared.
In a  letter to the Editor of the Cape Times headed 'Who gets what', from Dr JC Stegmann, deputy Director General, General Provincial Services, the good doctor states:
"In a letter to the Cape Times of July 23, 1993, the Cape Provincial Administration (CPA) is accused of overtaxation on horse racing. Although overall take-outs on tote bets range between 18% and 25%, these take-outs are divided between the CPA, the horse racing industry and the TAB, with an average of 6% going to the CPA. The punter therefore receives an average of some 76% of the gross turnover of the TAB, not a bad return on his investment!".
Come again?
Deputy Director Stegmann calls 76% "… not a bad return on investment!" for the punter who invests 100% to begin with – and therefore makes a loss of 24%.
Is there a real doctor in the house?
Excerpt from Sporting Post Sands Of Time
‹ Previous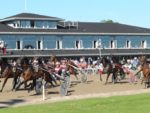 Distance The Key For Danish Fans