An update to Phumelela Gaming & Leisure Limited shareholders on Business Rescue and an advice of the withdrawal of their ongoing cautionary announcement has been published on SENS.
A summary is as follows:
1      On 8 May 2020, Phumelela Gaming and Leisure Limited ("the Company") entered voluntary business rescue and appointed Mr John Evans as business rescue practitioner. On the same date, trade in the Company's shares on the JSE was suspended.
2      On 13 May 2020, the Company concluded a written post-commencement finance agreement with Mary Oppenheimer Daughters Proprietary Limited ("MOD"), in terms of which MOD has agreed to provide loan finance of up to R100 million to the Company, during business rescue.
3      On 21 May 2020, the first meeting of employees was held. As a result of the nationallockdown, the meeting was held via videoconference in three sessions. The employees of the Company have elected to form a committee of employees' representatives, in accordance with section 144(3)(c) of the Companies Act, 71 of 2008.
4      On 22 May 2020, the first meeting of creditors was held via videoconference. A copy of the presentation made to creditors is available at:
5      On the same day, a meeting was held with creditors, in terms of section 143(3)(a) of the Companies Act, to consider and vote on the remuneration of the business rescue practitioner, Mr Evans. At the meeting, creditors voted to approve the remuneration of Mr Evans.
6      A meeting of shareholders will be held in due course to, inter alia, to consult on development of a business rescue plan and to consider and vote on the remuneration of Mr Evans in accordance with 143(3)(b) of the Companies Act. Shareholders will be duly notified of the date and venue or electronic platform of the meeting.
7      Although shareholders will be updated as further material information becomes available, the Company publishes updates regarding the business rescue process on its website at:
http://www.phumelela.com/Business-Rescue-Updates/Updates
Withdrawal of cautionary announcement
Shareholders are referred to the cautionary announcement released on SENS on 8 April 2020, which is hereby withdrawn.
Shareholders will be updated once the suspension of trading in  the Company's shares on the JSE has been lifted.
SENS – 27 May 2020 – 10h27
‹ Previous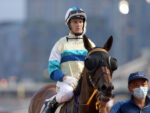 Purton Grabs Three Lead On Moreira