Yesterday's pic of Zimbabwe champion Merciless Sun was identified by Jay August, who again came out tops in the puzzle series.

Robin Bruss submitted the pic of Joe Byrnes with  Merciless Sun, who won the Castle Tankard in 1970 at Borrowdale and then was flown down from Salisbury to Durban to run in the Durban July.
Interestingly, more than 50 years later, flights for horses are still not a regular occurrence.
Joe rode the horse in the July where he was unplaced but he did come back and raided Turffontein later in the year and won the Jhb Summer Handicap defeating the local star Bill Bailey.
Merciless Sun was trained by his owner, Sir Raymond Stockil and later stood as a stallion in Zimbabwe.
Vanessa Tombe kindly submitted an additional pic of Merciless Sun and Joe Byrnes – see below.

Today's lockdown day 57 puzzle pic is shown below.
Who is the horse?
Can you name the personalities?

‹ Previous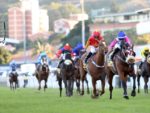 Gold Circle's Plans To Ride Out Storm