Yesterday's pic proved a tough one to find the horse's name.

The people at the lead-in were Gladys Meaker, Dennis Bosch, Louis le Grange and Patrick Lunn.
The horse's name was Headlong and nobody managed the full answer.
Thanks to Gladys Meaker and Karen Lunn for posting on our Facebook page!
Here is today's puzzle. Can you name the horse, the jockey, the co-owner and what race it was?

The answer will be up on Sunday morning!
‹ Previous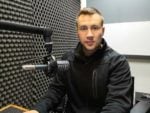 The Young Ones – Coping With Lockdown