Historically, there have probably been too many cooks spoiling the broth.
South African horseracing faces a clear and present leadership crisis as we balance on a knife edge for the go ahead to race behind closed doors.
But once the racing starts, what then?
There is no time like right now for racing to join forces under one banner for once and for all, and to abandon the petty provincialism and move forward with one voice.
While there are  already a few good people in the system, and remembering it's not meant to be a popularity or beauty contest, who would you choose to lead the new United SA Racing Front as a CEO?
The job is not going to come with a telephone number six digit salary package, business class air-travel or a multitude of perks. The salary package will be results based and communications skills are a non-negotiable.
Use our comment facility to nominate your candidate – with a one sentence motivation, if we don't know them.
And please don't insult any individuals – this is about a credible view on the future, and let your nominee and vote count.
Once we have a handful of nominees, we will set up a poll and then let's find out who the people's choice would be to lead this wonderful sport out of the wilderness.
‹ Previous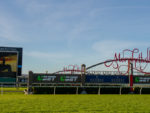 Santa Ana Lane Can Make History