Winning Ways Show host James Goodman spoke to racing fan David Safi earlier today.
The veteran racing man speaks about racing and the various challenges facing the industry, including board members and shareholders stonewalling and allowing the rot to continue.
The one-time wannabee jockey also talks about his life and other interesting items.
‹ Previous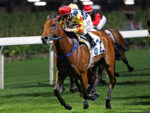 Valley Star Looks The Business