The meeting scheduled for Borrowdale Park today has been abandoned.
In a statement earlier this week, Gary Carter, Chairman of the Mashonaland Turf Club said that the MTC been working closely with the Ministry for Youth, Sports, Art and Recreation in their efforts to safely allow the resumption of Sport in Zimbabwe during the COVID-19 pandemic.
"We would like to thank the Minister for taking the initiative and categorizing the various sports into risk categories which at least manages the expectations of the various sporting organisations as to when their respective sports may recommence. The MTC fully supports the Minister and her team to bring clarity to this process where none existed before, and whilst we are of course disappointed that we are unable to race at the moment, we are confident the Minister has heard our case and arguments for as early resumption as is possible."
The statement continues that during this time of National Crisis, the MTC urges other sports, whether they are professionally based, such as Horse racing, or for purely recreational purposes to support the Minister in her efforts to convince her colleagues in Government to allow sports and recreation to open up in a safe and time-appropriate manner.
"We can do this by following the guidance that the Ministry and SRC may publish and to not try to circumnavigate such guidance for their own parochial self-interest. Such circumnavigation will only be seized upon by other interest groups as proof that Sports cannot be trusted with an early release from the 'lockdown' and we believe that will be counter-productive for all sports in the medium term."
‹ Previous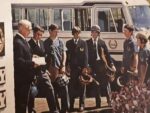 Throwback Thursday – Can You Name Them?