Jockeys will no longer be required to wear a face covering while riding in a race, the BHA has announced in its latest guidelines.
Riders are required to wear a mask before and after the race, but are now permitted to pull down the face covering in the moments prior to the start. It is still recommended that jockeys continue to wear a face covering during a race.
The guidelines also state that jockeys in starting stalls should not turn to face any neighbouring rider, and that upon completion of the race the mask should go back on before entering the horsewalk.
From there jockeys are required to wear the mask until they have finished unsaddling and are two metres away from any other personnel.
Riders are also still required to wear a face covering from the time they depart the changing area in the weighing room and when returning to the changing area.
The updated guidelines follow a review of government advice and the feedback from jockeys riding during the warm weather. The adjustments have been made with immediate effect.
It was also reported in the Racing Post that owners may be back on course by as soon as Wednesday. Details are unclear as to how the arrangement will work.
‹ Previous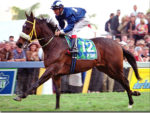 July – Vote Your Top 4!