Seeing, seeing that as from Monday casinos are open, restaurants are open and cinemas are open, we as owners are allowed on course to watch our horses, while having something to eat in one of the lounges on course?
Nicholas Nassif writes that surely it falls in the category as a casino in some areas and as a restaurant in other areas – and most definitely like a cinema in other areas with everyone glued to the racing going on!
A Racecourse is way bigger than any of the abovementioned with probably less people than any of the above mentioned.
I'm not starting a dispute, but it would be amazing to fit in with the rest of society and do the things we love to do.
Ed – As per their Press Release issued on 28 May 2020 and based on the President's speech last  Wednesday night, the NHA is in discussions with the Ministers and currently awaits updated Level 3 Lockdown regulations.  
A Press Release will be issued with revised regulations on racing behind closed doors by latest 24 June 2020 that will be effective 1 July 2020.
‹ Previous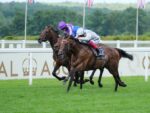 Frankie's 150-1 Day 5 Treble