The news of the closure of South Africa's only sand racetrack next month will not come as a great surprise to anybody.
But whichever way we try and spin this tragedy, the fallout is likely to leave a scar on our racing landscape for years to come.
The Sporting Post reported late last month that a quartet of Flamingo Park trainers were considering a move to Ashburton and were awaiting a final decision on the sand track's future.
This was the enforced culmination of the PR debacle last year when Phumelela and Racing Association management first approached local trainers.
Turf Talk broke the news late on Sunday that the handful of local trainers left have now been given notice by Phumelela that they will have to be out by 31 July.
It is not known whether the decision was initiated by the Business Rescue Practitioner. But does it even really matter?
Officials of the beleaguered racing operator will reportedly be visiting Flamingo Park to ensure that the stables are vacated.
Thus far there has apparently been no word on whether the trainers or their staff members will be financially assisted with relocation, or with other costs to be incurred.
While the social and equine welfare impact will be shocking and devastating, the gap in the South African racing economy won't be filled for years – if ever.
The centre has been a traditional second base for horses who struggle in the major centres, and are more effective on sand, or probably wouldn't make the grade for export to Mauritius.
While former dual Northern Cape champion Corrie Lensley has settled in well at Milnerton in the Cape, and had one of his first-timers put in an eye-catching performance last Wednesday at Kenilworth, the adjustment to new centres won't be a cakewalk for many of the ex-Kimberlites.
NHRA Chief Handicapper Lennon Maharaj told the Sporting Post that horses with established dual ratings will run off their turf ratings on grass.  Horses new to the turf will run off their sand ratings and will be reassessed within 3 runs.
Racing expert Jay August recently suggested in a comment on this site that race programmers would have to think out of the box for sand-only horses moving to grass or poly, en masse.
He pointed out that most Flamingo Park horses run off lower ratings than the normal turf population and will most likely run at sufferance, if they escape elimination, in even the lowest handicap races.
The sand median rating is 57 compared to the current grass median rating of 71.
He concluded that, on the assumption that the population of horses moving to others centres is representative of the past, the programme will have to be more inclusive in catering for these animals if their move is to be encouraged and supported.
And then what about the property on which Flamingo Park is located? There seem to be varying opinions on that.
We have to look forward.
But what a sad story to end the weekend after some entertaining SA Champions Season racing on Sunday afternoon.
‹ Previous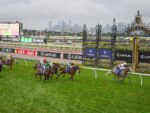 Canford Sailor Is Cruising