In this new age of capacity fields and multiple reserve runners, a danger could be lurking for punters in the shape of those very reserve runners.
Writing in the Sporting Post Mailbag, Hilton Witz says that he would like to bring to the attention of fellow punters the dangers of wagering on the early betting on South African racing once the final acceptances have been done – normally 4 to 5 days in advance of any local meeting.
Hopefully there can be some type of rule change in the best interests of both punters and bookmakers with regards to the early betting.
Because of the pandemic nearly all the fields have, and rightly so, reserve runners which are automatically scratched on raceday at around 08h15 unless there are prior scratchings in which case the reserves get a run.
Reserves have been used for a while especially with Hollywoodbets Greyville poly as only 12 can run which is the case since racing resumed countrywide since 1 June.
The problem is the early betting does not have the reserves in it. So in effect you are backing a horse in the race to beat the other 11 runners at the time and not any of the reserve runners.
So when a horse does get scratched and you get a deduction in the race if the horse is 20 to 1 or less in the betting, it is replaced by another horse that you never considered into your calculations.
And if it happens to beat your selection, in essence when you had your bet you never stood a chance of winning it.
This happened on Sunday at Kenilworth in the ninth race where the first 3 past the post were all reserve runners
While I'm not suggesting that we must do away with early betting on local racing, surely it needs to be looked at so it's fair for both parties.
At the moment it's heavily in the bookies favour!
‹ Previous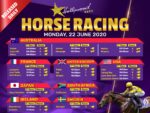 Monday Racing Menu