The Hollywoodbets Back On Track Punters Challenge gets underway on Sunday at Hollywoodbets Greyville, with up to R1 Million in prizes on offer between 7th June and 25th July.
The competition is open to all Hollywoodbets and TabGold account holders and is free to enter.
The challenge involves picking one horse per race for all race meetings held in KZN at either Hollywoodbets Greyville or Hollywoodbets Scottsville on the competition website: http://punters.hollywoodbets.net.
Each selection is awarded points based on where the selected horse finishes in its race, plus additional points based on the starting price of the winner (refer the Ts&Cs).
There is R10,000 to be shared amongst the Top 20 on the Punters leaderboard at the end of each race meeting, whilst on feature race days, which includes the World Sports Betting Guineas Day, Daily News Day and Scottsville Sprint Day, the daily prize money will be doubled to R20,000.
There is also an exciting R50,000 bonus on each race day for anyone selecting all the winners on the card. Should there be more than one winner, then the prize money will be divided amongst the winners for that day.
Therefore, with a minimum of fifteen race meetings, including three feature race meetings, there is a guaranteed R180,000 to be won.
With the R50,000 bonus available for each of the race meetings, there's an additional R750,000 to be won.
The Vodacom Durban July meeting will entail a mega prize, with at least R100,000 up for grabs for the stand-alone meeting.

The previous Sizzling Punters' Challenge, which ran during March 2020, saw over 13,000 people participate in that competition. Hollywoodbets and TabGold account holders each get a single entry, so a player with accounts with both companies will be entitled to two entries.
This Back On Track Punters' Challenge will run alongside the Hollywoodbets Back On Track Challenge for Trainers, Jockeys, Racehorses, Grooms and Apprentices, which was launched on 1 June 2020.
Hollywoodbets Brand and Communications Manager Devin Heffer is excited for the return of the competition, as all stakeholders in racing are now involved.
"This competition is a fantastic initiative for all horse racing enthusiasts, as well as those new to racing. The game is easy to play and easy to follow. We look forward to seeing how Day 1 of the competition goes this Sunday, especially with double points, and double the prize money on the WSB Guineas, WSB Fillies Guineas and the Independent on Saturday Drill Hall Stakes."

Gold Circle's Events and Marketing Executive Steve Marshall, who has been hard at work with the return of racing, says this competition is another way to encourage new blood to the sport of horse racing.
"Gold Circle and Hollywoodbets have been working hard to make KZN racing's offer something special for all stakeholders, and this punters' competition is one that rewards punters for their form study and hard work. We look forward to seeing all TabGold and Hollywoodbets account holders take their selections and enjoying the exciting racing we have lined up for Champions Season!"
The Hollywoodbets Back On Track Challenge kicks off with the World Sports Betting Guineas Day on Sunday at Hollywoodbets Greyville, where there will be prize money of R20,000 guaranteed to be won.
Pics – courtesy of Candiese Lenferna
‹ Previous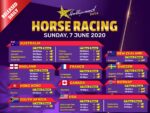 Sunday Racing Splash