Trainer Dean Kannemeyer is confident that if his runners get beaten at Hollywoodbets Greyville today, it will not be through a lack of fitness.
Racing returns to South Africa after more than two months with a 10-race card on the Polytrack at the Durban course and Kannemeyer expects his six runners to be highly competitive.
The Cape Town-based trainer has a satellite yard in KwaZulu-Natal at the Summerveld training centre in Shongweni.
He firstly hit out at stories going around that he had closed his stable in Cape Town and had permanently moved to KZN.
"It's time to stop this rumour. I've had a satellite yard at Summerveld for the last four years and I come up to Durban for the winter. I also have my Cape Town stable and I go back there for the spring and summer seasons.
"I've been doing it since 1993 but I remain a Cape Town-based stable.
"Those horses I consider not good enough to be competitive in Group races in KZN, I discuss with the owners and we leave them in Cape Town for the winter.
"Because it's been a successful move, there are some trainers out there who are trying to influence people to move their horses with the story I've closed my stable. It's true that I won't have many runners in Cape Town during the winter but that's because most of my runners are in KZN."
Speaking about his runners in KZN, Kannemeyer said: "The horses have been training all out at Summerveld. The facilities are fantastic. They have a turf, dirt and Polytrack so I'm quite confident to say my horses have had plenty of work.Although some horses may need one or two runs to bring them to peak fitness, if they do lose, it will not be through lack of fitness."
All of his runners will be ridden by Keagan de Melo.
Kannemeyer's pick of the day is Fade To Black in Race 4. "I really think he is doing well. His two runs in Durban looked encouraging. This will be his first run on the Polytrack but it should suit him and I feel this is the ideal race for him.
"He will enjoy this 1400m but I wouldn't be surprised to see him go over more ground later in his career."
The dangers could be the two unraced runners – Fast Love, ridden by Anton Marcus, and Vercing Dubai, with Warren Kennedy up. The latter, though, will have to overcome No 11 draw.
Kannemeyer also likes the chances of Track Attack in Race 3, Dutch Alley in Race 5 and Mount Anderson in Race 6.
"Track Attack's last run must be completely ignored. We had just gelded him and decided to give him a run over 1200m up the straight before bringing him to Durban.
"He became a bit one-paced late in that race but he is nicely drawn over this 1400m and although it might still be a bit sharp, I'm willing to take my chances. He is doing really well at home.
"At one time he was a bit awkward in the gates but if he breaks on terms, he's a huge runner."
He feels Dutch Alley is in the right race and has a good draw while Mount Anderson was beaten by a good horse last time after looking a likely winner at the 200m mark.
Kannemeyer's remaining two runners are Joyful Winter come in Race 2 and At Your Request in Race 8.
"Joyful Winter's been knocking on the door to win a maiden and her last run was encouraging. I've put the blinkers back on as Keagan advised me to do as she seemed to lose some focus last time. She's back over 1200m, which is a small question mark, but she is doing well.
"At Your Request took 12 runs to win a maiden but then had a very good run first time out the maidens. She's got to overcome a wide draw but I wouldn't leave her out of any bets."
The BiPot starts in Race 2 (12.00), the Place Accumulator in Race 3 (12.35), The Pick 6 in Race 4 (13.10), Jackpot 1 in Race 5 (13.45) and Jackpot 2 in Race 7 (14.55).
‹ Previous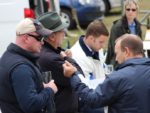 Miller Team Are Bullish Today