James Goodman chats to Steve Reid on the Winning Ways Show about various aspects of concern with our racing regulator.
They mention that the  NHRA spent R2,9 million on legal fees last year.
All monies accrued from fines used to be paid to the Trainers and Riders Benevolent Fund. But why are these monies being used to offset legal costs these days?
The Sunday jockey issue is also discussed – they suggest that rules 'are being made up'.
Click here and listen to the chat and make up your own mind
‹ Previous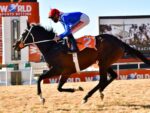 Stylish Gr1 Bon Voyage For Hawwaam