The long awaited 2020 Mauritius racing season gets under way at the Champ de Mars on Saturday.
The 2018  Drill Hall Stakes winner Perovskia runs in the Noble Salute Cup on a competitive nine-race card on Saturday.
The wearing of masks is compulsory in public, but the island's beautiful beaches as well as gyms, casinos, discos, fairs and public gardens will once again be accessible.
While their borders remain closed and the tourism sector is still suffering, Mauritius has been cited as an example of an effective fight against the Covid-19 pandemic. The lockdown was lifted completely effective Monday 15 June.
Being influenced by the Hong Kong model, the island horseracing will commence behind closed doors with 275 people allowed at the Champ de Mars.
This figure includes 16 jockeys, 120 trainers, assistants and grooms, 83 MTC officials, 22 members of the audiovisual production team, 21 journalists, 7 people assigned to draw lotteries and 6 GRA representatives to be present.
There are about 1700 owners in Mauritius and they will not be admitted on course under the current lockdown conditions.
Regarding lost time during the 2020 season, MTC President Kamal Taposeea has indicated that he is awaiting a response from the GRA regarding a 5-day extension in January 2021 requested by the MTC.
If approved, these would be added to the 34 meetings already approved. Taposeea said that the request to hold the races as soon as possible comes from the trainers who agreed with the reduction of stakes –  even if one of them had signed the relative document 'under protest'!
‹ Previous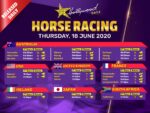 Thursday Racing