A reader says that he notices that after many of our articles, comments follow claiming that punters are sidelined or ignored or are treated badly or unfairly.
Roy Kasseepersadh writes in the Sporting Post Mailbag that he was shocked with the contents of an article we published yesterday 'about a dispute between two people'.
He writes:
You obviously know the value of the punter in this sport. Besides the money the punter is wagering, it should be noted that the punter is also a fan. And without fans, what is a sport?
I know that all the role players in the sport have their own Associations to protect and promote their interests.
But I think the punters, a major role player don't have such a thing.
I don't want to join the list of people complaining on your comments section. I would rather make a suggestion.
I think the punters need to form an association.
If you look at the article about the dispute, I have to inform you that it gives the sport a very smelly feeling. Its another reason why every roleplayer, even the punter, needs protection.
Perhaps the punters will unite so that their power can get recognized and respected.
Please don't misunderstand me and think that I'm promoting militancy.
‹ Previous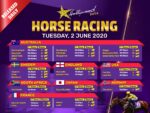 24 Venues To Choose From Today