The unfolding Katak fairytale highlighted a superb afternoon of racing at Kenilworth on Tuesday as the Ridgemont-Highlands bred son of Potala Palace cruised to a facile victory in the R125 000 Abe Bloomberg Gr3 Legal Eagle Stakes.
On the same day that the De Kock's bid adieu to their Australia-bound superstar Hawwaam, South African racing upped the ante on its newest love affair with the 3yo that nobody wanted, and only cost the equivalent of a few months keep.
His name is Katak – and now unbeaten in four starts, he made short work of his ten opponents when winning the 1800m feature at short odds.
The victory was achieved despite a nervous moment replacement jockey Greg Cheyne, who is sponsored by the winning breeders Ridgemont Highlands, losing his one stirrup iron about 350m out.
Katak beat the consistent and more experienced Super Silvano (12-1) by an academic and unextended three quarters of a length in a time 114,42 secs.
Trainer Piet Steyn caused some alarm amongst the big horse's supporters when he announced prior to the race that  he had cast himself in his box early on Monday morning – a tragic explosion at the nearby refinery possibly being the cause.
Greg Cheyne, who was originally engaged to ride Cane Lime 'n Soda, said that there had been lots of confusion with the jockey confirmations.
The East Cape Champion and former July winning rider has sat on a few decent ones in his time and said that Katak was not extended or 'at his top'.
The fact that the meeting was delayed, mixed with the SA Champions Season commitments of the top jockeys and the lockdown restrictions on travel, resulted in a shortage of jockeys at the meeting.
Trainer Piet Steyn said that there was a fair chance that Katak may go for the 2400m third leg of the series on 27 July, thus emulating Pocket Power and African Night Sky – and picking up the bonus of R200 000.
Katak has now earned R234 375 in his unblemished four starts.
The Ridgemont-Highlands bred Katak, a second crop son of Ridgemont-Highlands Singspiel Gr1 winner Potala Palace, is out of the Windrush three time winner, Sapphire Silk.
Part-owner Marsh Shirtliff, or Mr Pocket Power to many, could fancy his chances of enjoying the rare privilege of owning two Cape Winter Triple Crown winners
‹ Previous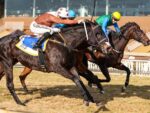 Celtic Sea Unchanged On 126