Alan Greeff could well have become the first trainer to saddle 200 winners in an East Cape season if it was not for Covid-19.
Henk Steenkamp spoke to him about the wonderful season he had, despite some unique challenges.
"It was a great season winning races wise, but it has been a very difficult year with things happening around Phumelela, stakes decreasing and the virus.
"This had a big impact on us and as time goes on we will feel the after-effects even more," Greeff said.
"I am grateful for what happened and that we can race but it has been a very rough and tough season."
Greeff is positive about what lies ahead.
"We have to be positive. Racing is in everyone's blood and I know nothing else but to race.
"The general vibe has gone from a depressed mood to a more positive one.
"We just had to adapt, button down and work a little bit harder and a little bit more sensible.
"The training of the horses stayed much the same. But you have got to adapt or die. As we have heard on numerous occasions, life is not as we know it.
"We have to make the best of it and look to the future. It is something we have to live with, otherwise it will get you down if you don't."
Greeff will end the season at Fairview today very close to his East Cape record tally of 176 winners of last season.
This season he notched up 166 winners at Fairview and also won the Champagne Stakes last weekend at Kenilworth.
He would no doubt have bettered his record if more than two months of the season had not been lost due to Covid-19.
Greeff is not someone who thinks about records. "No, no, I am not a record chaser.
"Those things must happen on their own. My aim is to train winners. As long as I have winners and it keeps the owners happy, I am happy. The rest will take care of itself."
Greeff will be crowned the East Cape champion for the seventh consecutive season (14th time overall) but makes it clear that winning the title is not his main goal.
"I don't train to win a trainer's championship. I have had a very good run and am grateful for that, but it is a big wheel and it does turn.
"I have gone through weeks where I haven't had winners and you just have to bite the bullet and hold your nerve."
For the last two months of the season Greeff could not use the services of his regular Cape Town jockey Greg Cheyne but that did not stop the stream of winners.
"Greg was left stranded on 99 winners for the Fairview season. He was eager to ride at Fairview but unfortunately things didn't work out that way.
"He is like a cricketer retiring on 99 runs and I think it aggravates me more than it aggravates him.
"Charles Ndlovu and Teaque Gould have done very well in the absence of Greg. They worked very hard during the lockdown as well. They deserved all the success they got.
"I tried to be fair with the spread of rides between the two guys that did the bulk of the work at the stable.
"Shadlee (Fortune), Luyolo (Mxothwa) and Keanen (Steyn) were also there and were given their chances as well."
It was a season of many highlights for Greeff.
When asked which stood out for him he mentioned the meeting he had seven winners and also winning the World Sports Betting East Cape Derby and the PE Gold Cup.
"But I am grateful for any winner. I am ecstatic about every race that I win. Hopefully I will never lose that feeling."
First race at Fairview is off at 11h40 today
‹ Previous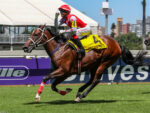 KZN Trainer Chases Big Bonus