A brave move by a Cape Town-born jockey to venture to New Zealand sees the determined young man starting the new season with two rides at the Matamata Racecourse today.
The  track and training centre is two kilometres south of the eastern Waikato township of Matamata.
Cape Town-born Brandon May spoke to the Sporting Post this week from the land of the long white cloud, after he was granted his Class A jockey licence only on Wednesday and makes a 'fresh and satisfying start' after arriving five months ago in the island country in the southwestern Pacific Ocean as a work-rider.
An excited Brandon told us that he decided on the international move, seeking new opportunities and looking for a fresh start.
"I arrived here on 13th February, just before lockdown and travel restrictions were implemented by the New Zealand government. I was contracted to Kilgraven Lodge.They are a breaking-in centre and I was actually initially under the impression that they were also a racing yard!" he explains.
Brandon admits it was a very different experience from his days of race-riding in the Cape.
"It was a lot different for me, but plenty of fun. And I can truly say I'm a better horseman now. Which I believe will make me a better jockey. I spent more than 4 months breaking in horses and helping wherever necessary. I really worked hard!" he says with pride.
Once lockdown was eased, Brandon set out to pursue his passion and try and get into race riding – something he admits was always his goal leaving South Africa.
"It was a real journey finding the right trainer! After an interview with Hall of Fame trainer Graeme Rogerson, who trains in partnership with his wife Debbie and granddaughter Bailey – who in 2017 was the world's youngest trainer – my mind was made up. Mr Rogerson is a well established trainer with lots of horses, and a true professional at everything he does. I can honestly say he was such a godsend! He is such a fair and honest man," says Brandon emotionally.
Brandon says that not long after he found himself riding proper track-work again in the Rogerson operation, things moved extremely fast.
"They really pushed for me. I truly owe them plenty of winners to return the appreciation and gratitude for what they have done for me!"
Brandon says that against the odds he stayed true to self-discipline, hard work and never gave up on his goals.
"I stuck resolutely to keeping fit and improving my skills – with the goal of getting my licence. I can thank God for staying with me and helping me keep my faith and self-belief."
Brandon, who will have his first ride on the 5yo gelding Capellani for the Rogerson yard in the second race on the Matamata card, rode his first winner at Hollywoodbets Scottsville in May 2014 for Kumaran Naidoo.
He had his first ride on 3 November 2013 and is a graduate of the SA Jockey Academy.
Good luck, Brandon!
‹ Previous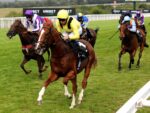 Government Pulls Plug On Pilot Day