A further delay in publishing a business rescue plan for the embattled Phumelela Gaming & Leisure Limited is adding to the uncertainty and speculation and is doing nobody any favours – least of all the sport itself.
A request by John Evans to further delay the publication of the much anticipated plan, from the extension granted to tomorrow, until Tuesday 18 August, might seem like a feather stroke in the bigger scheme of things, but leaves racing in the national picture, in limbo.
And our National Yearling Sale commences on Friday, amid the smoke and mirrors.
Phumelela commenced business rescue proceedings on 8 May 2020, at which time the experienced John Evans was appointed as its business rescue practitioner.
While the company has continued to trade during business rescue, the uncertainty is not conducive to promoting support from many stakeholders who have had their fill of plain bad management over many years.
The non-KZN Racing entities announced a fortnight ago that the interim arrangement in respect of minor-race stakes for the Highveld, Western Cape and Eastern Cape in June and July has been extended for the month of August.
The racing operators continue to contribute 40% of previous stakes levels, with the Racing Association topping this up by a further 20% to achieve the current 60% levels.
The racing operators and the Racing Association have continued to meet monthly to analyse betting-revenue trends before making further decisions regarding stakes levels on a monthly basis.
The parties have also agreed to further defer the negotiation of the new stakes agreement until more certainty emerges on a number of issues affecting the industry. So when does the doggie actually start wagging his tail?
Given the degree of cynicism that already exists in this industry – or sport – the layman must ask why the further delay after eleven weeks? Phumelela was on a downward curve for years – the business model is surely not that complicated? Are the masked suitors really queuing three deep? But what do we know?
A report states that several attractive proposals have been received from parties interested in the business or assets of the company and the business rescue practitioner and his team are busy evaluating these proposals.
For how much longer and what's the incentive to finalise the outcome?
‹ Previous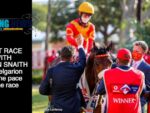 July Pace – Snaith Differs With Stipes