Mike de Kock is disappointed that the European Union has not gone to greater lengths to get the South African export protocols audit performed, even in Covid-19 time.
"We see Zoom meetings happening at boardroom levels all over the world. Why can't they do our audit virtually? Our industry is in dire straits, our operator is in business rescue but still, the EU are taking their time.

Speaking on his website, www.mikedekockracing.com, he said that 'we need help'.
"I wonder what we must do to make the audit happen? Maybe we should go on our knees before them. They must be seeing what is going on but they are stalling. All they should do is the right thing, what will it take?"
Adrian Todd, MD of South African Health & Protocols, said that the EU officials were unable to travel to South Africa due to the restrictions, but with Europe 'opening up', there could be some positive news soon.
"They have assured me that that audit will take place this year," he said.
Mike concluded: "The future of South African racing and the employment of tens of thousands of workers in our industry rest on the shoulders of the EU. We need them to level the playing fields, because we produce athletes capable of competing on the world stage. We have done our bit, the rest is now up to them."
De Kock was as much in awe of Hawwaam's 3.50-length victory in Saturday's WSB Premier's Champions Challenge over 2000m at Turffontein as the thousands of racing fans who watched his flawless execution of a 5th Gr1 success, but said that he felt dismayed at what lies ahead for Sheikh Hamdan's star four-year-old.
"When you have a horse like Hawwaam and our two juveniles that ran in the Nursery and you know they are good enough to take on the world's best, you have to cringe for them. They have arduous journeys ahead!"
Mike elaborated: "As things stand, Hawwaam will be going into quarantine soon. He will have to spend three weeks at Kenilworth and a further 90 days in Mauritius before he can travel on to the UK where a further 180-day residency will be required should we choose to travel to Australia. Should we choose to travel to Dubai, a 30-day residency will be required.
"I know what it takes to win abroad. Hawwaam is good enough to win a race like the Arlington Million the US, and he is more than good enough to win A Gr1 in Australia. I'd like to see him race in Australia. But look what we have to go through to get there!"
Mike praised Sheikh Hamdan for his patience and said: "Sheik Hamdan is one of the world's great owners, he has been a staunch and invaluable supporter of our industry, but we are unable to get his top runners out of the country timeously."
‹ Previous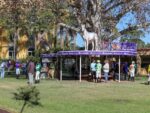 Gold Circle Eases Owners In