The National Horseracing Authority confirms that at an Inquiry held in Durban on 22 July 2020, Jockey Gavin Lerena was charged with a contravention of Rule 62.2.3.
The specifics of the charge being that on 15 July 2020, in Race 1 run at Hollywoodbets Greyville Racecourse, he failed to ride IN TIME 'N TUNE out to the end of the race, thereby prejudicing his chances of obtaining 3rd position.
Jockey Gavin Lerena pleaded not guilty to the charge but was found guilty as charged by the Inquiry Board.
Watch the final stages of the race here
After considering all factors in mitigation which included his clean record in relation to prior contraventions of this Rule, the Inquiry Board imposed a penalty of a suspension from riding in races for a period of fourteen (14) days.
Jockey Gavin Lerena has the Right of Appeal against the finding and the severity of the penalty imposed.
Media release by NHRA on Wednesday 22 July 2020
‹ Previous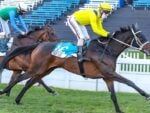 Moon In June Jumps To 110