Dual SA Champion jockey Lyle Hewitson's switch of Vodacom Durban July ride allegiances this week from Gr1 Daily News 2000 winner Got The Greenlight to the Tarry stable's Shango has been accepted philosophically and in a sporting spirit by veteran trainer Joey Soma.
Speaking to the Sporting Post on Saturday morning from a freezing cold Turffontein, Joey said that he had been approached by the Drakenstein-sponsored jockey with a request to withdraw from his original engagement.
"I appreciate Lyle's position. A large part of his success can be attributed to the powerful Tarry yard and major owners like Chris van Niekerk. And this is a sport. We are supposed to be sportsmen and behave in a sporting way. Believe me, I want to win the July – but more importantly, I want to enjoy it, too. These are rare great days for racing people. The last thing I, or my owners need, is a stressed out jockey or any tension or malice. The race is bloody hard enough to win, as it is!" he mused.
Joey  added that the replacement of Hewitson by a top-class rider like Muzi Yeni was a real bonus for the Soma Racing Team and the owners, and was a 'like for like' substitution.
"Ante-post players know the risks. This was not a malicious or contrived move and it is within the rules. Muzi is hungry, motivated, and so excited and thrilled to have gotten the chance to win his first July. He has done well for us at the top level with the likes of Happy Landing and Lobo's Legend. While I have had a good few tries over the years, my last big chance to win the July was probably way back in the 90's with Special Preview!"
Joey said that if his horse wins it would be a fairytale – if he got beaten a head by Shango or any other opponent,'then maybe he just wasn't good enough'.
"It's an honour to have a runner with a serious chance in the race. My team are excited and we will have him ready. I have always adopted the philosophy that we let the opposition worry about us rather than we about them!"
The unfolding soapie of the July jockey switch has some twisted dramatic irony attached to it.
Last season the two top riders were involved in a head-for-head duel for the SA title and it was at the same venue on 27 July last year that Hewitson, riding Moon In June, was intimidated and interfered with by Yeni when the latter took his hand off his left side rein and placed it on his shoulder.
The Northern Cape Champion was given a three month holiday for the offence in a race where Shango ran second.
The irony is that Yeni's mount that day was Mr Greenlight.
On 25 July he will ride Got The Greenlight.
There can't be a jockey in the eighteen strong line-up who wants that trophy more than Muzi!
Hollywoodbets Patrick Bradley told the Sporting Post that the Vodacom Durban July ante-post market will close on Tuesday when the final field will be announced
"The biggest ante-post support has been for Belgarion, Vardy and Got The Greenlight. But to be realistic we have had a large cross section of interest in all 27 entries still in the race," he added.
Click on the image below for more

‹ Previous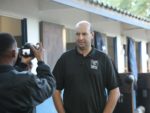 KZN Tipsters' Clean Sweep