After Mike de Kock's Premier's Champions Challenge post-race comments on Saturday, Hawwaam's Vodacom Durban July odds have ballooned 800%, with the son of Silvano looking a genuine doubtful starter for the big race on 25 July.
With his pink of health underscoring end-to-end victory in the Hollywoodbets Gr1 Gold Challenge on Sunday, Rainbow Bridge is a 4-1 favourite and surely the proven horse to beat with the Sun Met and Champions Cup under his belt from last term.
His proven record – he has never been out of the cash in 16 starts – will probably be of more comfort to bettors at that price than WSB 1900 Victor Belgarion's untapped scope at a half point higher on the boards. The son of Dynasty is bidding for his fifth consecutive win – the July is a cauldron to try and achieve that in.
Belgarion is one of a trio of Justin Snaith horses in the July betting boards top four. Snaith is bidding for his third consecutive success in the great race. After his decent enough third off a dawdle in the Gold Challenge on Sunday, Snaith's July hat-trick bidder Do It Again has come in from 7's to 13-2.
The recent Drill Hall Stakes winner Bunker Hunt rounds off the Snaith spearhead at 8-1.
Clearly the 3yo flagbearer in the class of 2020, Daily News winner Got The Greenlight joins Belgarion at 8's after firming from 12's.
The fact that he is travelling back to Turffontein, and then back to Summerveld in July week, will have some  nervous about his short-term mileage come 25 July.
While trainer Joey Soma has outlined his rationale for the move, great conditioners like Terrance Millard and Syd Laird came to Durban for months and cleaned up.
Then there's the L'Ormarins Queen's Plate winner Vardy. He is in from 14 to 10-1 after storming home off a slow-run Hollywoodbets Gold Challenge pace on Sunday, and would likely have nabbed Rainbow Bridge in a few strides. But would have, should have, could have and there must be questions marks about him trying the 2200m.
Click on the image below for the betting

The Vodacom Durban July first declarations close 11h00 on Monday, 6 July
The final supplementary entries are due by 11h00 the following day, when the weights will also be published.
Then:
Final Declarations -close 11h00 Monday, 13 July
Final Field and Draw – 14 July
Final Field: Subject to NHRA approval, twenty horses will be carded for this event (18 Horses + 2 Reserves)
The Reserves to be scratched by 08h15 on Friday 24 July.
Elimination will be at the sole and unfettered discretion of Gold Circle.
‹ Previous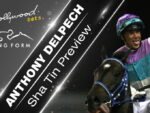 Delpech On Sha Tin Today