With a switch from speed to stamina, the major weekend feature action is again at Hollywoodbets Scottsville, where the newly upgraded Gr2 Track & Ball Oaks and the boys' counterpart, the Gr3 Track & Ball Derby, will be run over 2400m.
The two races represent a last  bid to qualify for a Vodacom Durban July berth, with declarations closing on Monday and the final field and draws due the following day.
The Track and Ball Derby has attracted a small classy field, including a trio of July entries – the two past Cape Derby winners in It's My Turn, Eyes Wide Open, and the De Kock raider Duke of Spin, who are all in the big race mix.
R125 000 2400m 14:40 Ref-674
1st R78125, 2nd R25000, 3rd R12500, 4th R6250, 5th R3125
TRACK AND BALL DERBY (Grade 3)
Weight For Age + Penalties
WFA: 3yrs-2kgs
No Apprentice Allowance
1
1
Dark Moon Rising
58
103
T A
T Godden
Paul Lafferty
2
2
Marchingontogether
59
110
A
W Kennedy
Gavin van Zyl
3
3
Seattle Force
58
104
A
S Randolph
Darryl Moore
4
4
It's My Turn
58
118
A
S Veale
Dean Kannemeyer
5
5
Eyes Wide Open
60
115
A
A Marcus
Glen Kotzen
6
6
Duke Of Spin
58
101
A
C Murray
Mike de Kock
7
7
Twice Golden
56
93
BA
L Hewitson
Garth Puller
8
8
White Lightning
58
96
A
B Jacobson
Paul Lafferty
Same Trainer – Not Coupled on Tote
(1,8)
It's an old debate already, but Gold Circle made the bold move in 2014 to open the KZN Derby and the KZN Oaks to all ages at weight-for-age plus penalty terms.
The decision, now accepted by the naysayers and purists, was based on the rationale that the main focus of 3yo's during the SA Champions Season is, more often than not, the individual sex' Guineas, the Daily News 2000, the Woolavington Stakes and the Vodacom Durban July.
The lack of prestige meant that over the years the Derby and Oaks suffered and were downgraded and battled to find a consistent place in the programme.
It was decided to try and enhance the quality and depth of both races by opening them up to all and move away from the traditional 3yo classic restriction. The decision was supported by international precedent, such as the Irish St Leger and the Yorkshire Oaks.
Further justification was seen in the fact that there are no weight-for-age races in South Africa over the distance and it was intended that the overall programme for stayers would benefit from the change.
The Derby may lack for a pace in view of the small field.
It's My Turn won the race in 2018 and is now a 7yo. A classy sort and a past Equus champion stayer. Dean Kannemeyer's Dynasty returned with an eyecatching fifth after a long rest.
He will be more suited to Saturday's trip and Kannemeyer said: ''He is doing extremely well and I'm very happy with him. I've had him on the grass and expect a big run as we are aiming him at the Vodacom Durban July".
Fourth-placed in the July last year, Eyes Wide Open has not been at his best of late but is having his third run after a rest and with a stand-up jockey booking in Anton Marcus he could be worth considering.
Lonsdale winner Marchinontogether is a progressive stayer and looks perfectly poised for a big run.
The Gr2 Track and Ball Oaks could see the Highveld raiders playing a major part.
R150 000 2400m 15:15 Ref-675
1st R93750, 2nd R30000, 3rd R15000, 4th R7500, 5th R3750
TRACK AND BALL OAKS (Grade 2)
For Fillies and Mares at Weight For Age + Penalties
WFA: 3yrs-2kgs
No Apprentice Allowance
1
1
Pomander
56
110
A
C Murray
Mike de Kock
2
2
Red Al
58
85
BA
S Veale
Gareth van Zyl
3
3
Return Flight
60
106
TBA
L Hewitson
Sean Tarry
4
4
Flichity By Farr
58
103
A
W Kennedy
Alyson Wright
5
5
Chitengo
58
110
BA
G Lerena
Alec Laird
6
6
Je Ne Sais Quoi
58
82
A
S Randolph
Glen Kotzen
7
7
Kelpie
56
116
AM
A Marcus
Brett Crawford
8
8
Coral Bay
58
90
A
D Dillon
Glen Kotzen
9
9
Roy's Riviera (AUS)
58
111
BA
S Moodley
Frank Robinson
10
10
Dynasty's Blossom
58
106
T A
K de Melo
Brett Crawford
11
11
Ballet Shoes
56
109
A
R Fourie
Candice Dawson
12
12
Moon In June
58
92
AM
C Zackey
R A Hill/S R Hill
13
13
Seville Orange
58
103
A
G van Niekerk
Lucky Houdalakis
Same Trainer – Not Coupled on Tote
(6,8) (7,10
Mike de Kock's Flower Alley filly Pomander ran a huge race when finishing second to Summer Pudding in the Gr1 SA Oaks and based on a repeat of that, she must be the horse to beat.
Chitengo is favourite in the early exchanges and has beaten Pomander in the past. These two look set to fight it out.
‹ Previous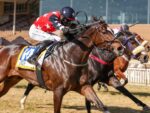 Gareth's First Gr1!