The name Rodney Dunn takes any regular racegoer back in time to the happier days of Cape racing, when the pre-Met Cocktails & Racing was an institution that nobody missed and the ethos and love of the game just seemed like the only things that really mattered.
Rodney celebrates his 73rd birthday today and the Sporting Post chatted to him at his Camps Bay home early this morning.
He suffers from emphysema and only has 17% lung capacity.
"It's lovely to hear a voice from the past and to know that somebody is still thinking of me," he said as he apologised for being low-key and sometimes inaudible as a result of his breathing.
Rodney is on oxygen 24/7. He sounds philosophically positive, even while conceding that his quality of life is greatly diminished.
"I don't go out anymore. Besides Covid-19, I couldn't cope anyway. I still watch the horseracing on television and try and follow it. And I maintain my business interests too. It's not easy, but we have to play the cards we are dealt, my boy."
In an age where we don't seem to have any 'go to' person on the softer sentimental issues of racing, Rodney Dunn's passion and enthusiasm is sorely missed.
As a board member of the Western Province Owners and Trainers Association for over three decades, Rodney was the unsung hero of Western Province racing. During those years he was dedicated to uplifting and strengthening racing in his home province. His list of achievements is a lengthy one, right down to being the architect of the Cape Racing Hall Of Fame.
He was also heavily involved in the promotion of Kenilworth Racing to many overseas people from England, Ireland and Europe. He took the initiative of promoting the J&B Met through the WPOTA Charity evenings and J&B Met Sweepstake for over twenty glorious years. The creation of the Honours Boards and the Grade 1 photo galleries and the tribute to Pocket Power were also his initiatives.
It's a little known fact that Rodney started riding horses at the age of 11 for trainer Charlie Luyt and rode work at his beloved Kenilworth Racecourse before going to school.
After 92 years of service to Cape Racing, WPOTA closed down in 2013 as part of the arrangement for Kenilworth Racing to go forward with a new board, with Phumelela as managers and the National Horseracing Trust as  guardians of the sport.
The establishment of the Racing Association in the Western Cape took the place of WPOTA.
Rodney, who was acknowledged with a Special Achievement Award in 2013, has played no further part.
The Newcastle United supporter and his wife Joy, together with daughter Catherine, and sons Michael and Andrew, will have a cup of tea and a piece of cake today to mark a milestone.
Best wishes Rodney.
‹ Previous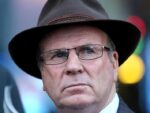 Racing Victoria Shock