Joey Soma Racing has announced that due to unforeseen circumstances on Drakenstein-sponsored jockey Lyle Hewitson's side, he will not be able to honour his riding engagement on Got The Greenlight in the Vodacom Durban July on 25 July.
Lyle was originally secured to ride the Soma Champion in the Vodacom Durban July when still riding in Japan in April 2020.
The Soma stable report that all is not lost though as they have their old friend Muzi Yeni aboard Got The Greenlight.
"We hope that this doesn't have major ramifications on the betting, but we felt that it was best to let the punters know the situation," said a Soma Racing spokesman in a media release published early on Friday.

‹ Previous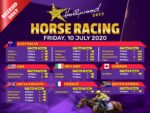 TGIF Racing!