The experts want to know about only one horse at Hollywoodbets Scottsville on Saturday!
That's Sean Tarry star Celtic Sea who defends her crown of speed in The Witness Gr1 SA Fillies Sprint. She's a banker in everything.
The Sporting Post is proud to showcase the Festival Of Speed selections of some of the greatest minds in South African racing.
For the first time on African soil, the country's leading racing publications share the same stage to help the punter find the key to the estimated R2,5 million Pick 6 – or even a share of the projected R800 000 Jackpot.
Call it SA racing's mini Ubuntu moment – we are all united in the quest to find the winners.
And this is just the start. On the big feature days we will be inviting other big names to put their reputations and skills on the line with some big developments planned in the months ahead.
So whatever your personal publication or tipster of choice, we have done the homework courtesy of our guests and here's an opportunity to find the trends – and the possible value.
Did you know that we offer the most diverse selection of racecards on the continent? Pick yours
The Pick 6 starts with a carryover of R250 000. It's off in the fourth at 12h50. Estimated Pool: R 2,5 Million.
The first Jackpot starts with a carryover of R100 000. It's off in the fifth at 13h25. Estimated Pool: R800 000.
The Witness SA Fillies Sprint – the seventh race – hosts a carryover Quartet of R100 000. Race 7 is off at 14h40. Estimated Pool: R500 000.
Click on the image below

SP Readers are welcome to post their own selections – you could make it on to our Vodacom Durban July day panel!
‹ Previous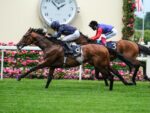 Why Russian Emperor Can Do It Today