The National Horseracing Authority has opened an investigation, the scope of which will hopefully also cover the actions of an official on track, into a feature runner's reluctance to proceed to the start of the Gr2 Zulu Kingdom Golden Slipper on Vodacom Durban July day.
A short clip taken off Tellytrack shows an individual, reportedly a farrier, striking the filly Big Hello's with force on her hind legs with what looks like a stick or stock whip, in full view of viewers and on-track witnesses as she stands motionless on the track on Saturday.
The clip has been sent from various sources to the Sporting Post and is doing the rounds on whatsapp.
The Stipes reported that Big Hello's (B Jacobson) proved reluctant to proceed to the start.  Trainer L Goosen was advised that should this filly behave in a similar manner in future, she may be suspended.  An investigation has been opened into the circumstances surrounding Big Hello's (B Jacobson) being reluctant to proceed to the start of this race.
The filly, raced by leading owner Suzette Viljoen, does not appear to respond to the vigorous strike first time and only very marginally the next.
On any raceday, this sight is likely to shock any average viewer. On Vodacom Durban July day, the action just becomes more unbelievable.
The Sporting Post has written to the NHRA to confirm what the scope of their investigation entails.
‹ Previous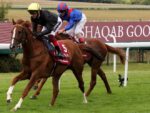 Stradivarius Could Head For Arc