With the advent of the totes having been re-opened, I note a substantial increase in the tote betting pools.
Len Bloch writes as an 'owner and small time punter' in the Sporting Post Mailbag.
I have always contended that the bulk of betting pools comes from the R5 and R10 tote punters.
Stake money for races is dependent on tote revenue which,now on the increase, SHOULD MEAN that stake money for ALL races should be increased to at the very least ,what they were at prior to lockdown.
The question,for me, now becomes – how long are the long suffering owners,trainers and jockeys going to have to wait for stakes to be increased?
By choice,even though I reside in Cape Town,I race my last two,of what was 8 horses in PE .
I have had horses in Cape Town and Durban.
The current situation in PE is that, with the exception of 'feature' races, all races have a stake of R35 000. Hardly worth the expense of keeping horses in training and even thinking about increasing my string.
The racing authority have not exactly covered themselves in glory over the past year.
Maybe the time has arrived for them to actually do something POSITIVE to encourage more ownership by making the first order of business the INCREASE OF STAKES.
‹ Previous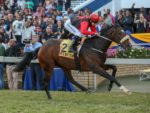 Hawwaam Out Of July