MGAS Bloodstock & CRT's inaugural online sale ended in bitter disappointment on Friday when their platform collapsed under the weight of visitors,

In a day that Gabi Soma (above) described to the Sporting Post as 'his worst nightmare ever', an unanticipated wave of visitors meant that many buyers were not able to log their bids.
"It is with a heavy heart that we have to postpone the entire sale until Wednesday. This is extremely unfortunate. We did the trials and the tests. We were set and ready. And then today was unprecedented.We are changing servers in order to accommodate the numbers on the site and to make the process user friendly."
The sale is thus null and void .
"We will keep everybody updated. To all our vendors and visitors – our sincerest apologies," said a distraught Soma, who had enjoyed a promising first two days, with good results at the Vaal sparking further interest.
Further news on the sale that starts on Wednesday 8 July and ends on 10 July will follow.
‹ Previous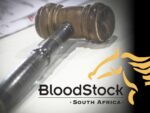 BSA July Online Sale Starts Today