The final field with barrier draws  for the Gr1 Vodacom Durban July was announced at a function at Hollywoodbets Greyville today.
The 124th running of the 2200m will be contested at 15h10 on Saturday 25 July at Hollywoodbets Greyville.
Justin Snaith's Do It Again bids for a historic third consecutive victory in the great race,  and pulled an outside gate at 18.
A reminder that the Vodacom Durban July special Winning Form racecard will be available in print from Friday 17 July.
1
1
Golden Ducat
53
115
A
……………
Eric Sands
2
2
Rainbow Bridge
60
134
A
W Kennedy
Eric Sands
3
3
Padre Pio
53
115
A
……………
Dennis Bosch
4
4
Miyabi Gold
52
115
A
K de Melo
Justin Snaith
5
5
Soqrat (AUS)
59
132
A
C Murray
Mike de Kock
6
6
Twist Of Fate
56.5
127
BA
A Domeyer
Adam Marcus
7
7
Shango
53
116
TBA
L Hewitson
Sean Tarry
8
8
Capoeira
53
115
BA
T Godden
Andre Nel
9
9
Vardy
60
134
A
C Zackey
Adam Marcus
10
10
Divine Odyssey
53
117
A
S Randolph
J A Janse van Vuuren
11
11
Tierra Del Fuego
55
124
A
G Lerena
Sean Tarry
12
12
It's My Turn
53
118
A
S Veale
Dean Kannemeyer
13
13
Got The Greenlight
53
118
T A
M Yeni
Joe Soma
14
14
Bunker Hunt
55
124
A
G van Niekerk
Justin Snaith
15
15
Silvano's Pride
52
118
A
S Moodley
Justin Snaith
16
16
Camphoratus
52
110
A
G Wright
R A Hill/S R Hill
17
17
Belgarion
53
119
A
R Fourie
Justin Snaith
18
18
Do It Again
59.5
133
A
A Marcus
Justin Snaith
19
0
Tristful
53
109
A
Reserve 1
Tony Rivalland
20
0
Hero's Honour
53
115
A
Reserve 2
Gary Alexander
Same Trainer – Not Coupled on Tote
(1,2) (4,14,15,17,18) (6,9) (7,11)

‹ Previous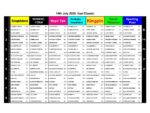 Vaal – The Expert View