The South African racing regulator owes the public and stakeholders an explanation for the potential confusion, embarrassment and fear being sown by a gross lack of communication and clear process with regards to jockey Covid-19 'positives'.
The National Horseracing Authority's seemingly denialist stance extends to many facets of the industry, but the coronavirus can be life and death stuff and is no laughing matter.
We reported last week that KZN jockeys were up in arms after a seemingly simple request to have incoming jockeys tested properly was declined by the Racing Executive.
Turf Talk reports this that Bernard Fayd'herbe has tested negative for Covid-19 in Durban just a few days after he had to stand down following a 'positive' result obtained after a test he'd done in Cape Town.
He , by request of the NHA, had himself tested in Cape Town before flying to Durban, and received a CV-19 positive result three days after he'd ridden at last week's Greyville meeting.
He told Turf Talk: "I had a drive-through test performed in Cape Town on Thursday 25 June. I'd never felt better, I was fit and healthy then, not the slightest sign of a symptom, and it's the same for me now after I've had a negative test returned.
"The drive-through test was awful. They pushed a long swab up my nose and it was painful and uncomfortable, my eyes watered. I wasn't tested again before I rode last Saturday. I received my positive test on Monday afternoon at 5pm, two days after the race meeting.
The National Horseracing Authority swiftly sent out the following statement, apparently via a whatsapp message: 'the NHA advises that (name withheld) have (sic) returned positive Covid-19 Genetic results. He is feeling healthy, showing no current symptoms & are (sic) unlikely to get sick. Any person that has come into contact with him should self-isolate if showing any symptoms themselves. The Jockey room & areas surrounding is currently been disinfected'.
Fayd'herbe was removed from his rides at Greyville on Wednesday and those confirmed for Saturday and said: "I just couldn't believe it because I've been feeling so good. My girlfriend and my personal trainer back home are also as fit and healthy as they've ever been. We've been especially careful in everything we've done since the lockdown started.
"I went for a second test on Tuesday morning, 1 July, and Ampath Laboratories performed the test with swabs in my throat. I received news of the negative result late on Friday and the official confirmation came through this morning (Saturday), too late to get back on my rides at Scottsville."
The incident casts further doubt on the validity of the South African government's Covid-19 tests.
Some media reports have held them to a 50-50 ratio of producing the correct result. For the test to be valid, a good sample needs to be collected and the lab or machine it's processed in also needs to be accurate. The jockey in question had his second test done by one the most respected Laboratories in South Africa.
In the aftermath, it is evident that the NHA's procedural arrangements for travelling jockeys is not adequate, and that they may have benefitted from consulting with relevant members of the industry.
On the one hand, they regard jockeys in effect as 'non-essential', and have placed restrictions on their travelling – going against the relaxed lockdown rules. On the other hand, owners have been allowed back on racecourses and tote betting shops have opened again across many areas of South Africa.

As early as the first week of June, the KZN jockeys made representations to the KZN Chief Stipe to propose that visiting jockeys flying in for the popular SA Champions Season on the East Coast, be cleared by way of formal testing.
This request was turned down by the NHA's Arnold Hyde.
From the subject jockey's case, we can gather that:
His first test returned a false positive or,
He had contracted Covid-19 and doesn't have it anymore
The first assessment is the more likely, considering the jockey's visit to a respected Medical Laboratory.
Had the correct measures been in place – for example a second test prior to riding and an isolated jockey's facility for travellers – Fayd'Herbe's embarrassment and loss of rides could've been prevented.
‹ Previous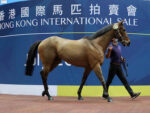 HK$7,2 Million Tops Hong Kong Sale