The fast pace at which the Vodacom Durban July was run has generated debate.
Did pacemaker Silvano's Pride go 'too quick' for some, or is this how races should be run?
The Stipes said:
SILVANO'S PRIDE (S Moodley) raced clear of the field in the early and middle stages. Thereafter, this filly compounded in the straight.  When questioned regarding his riding of SILVANO'S PRIDE, Jockey S Moodley told the Stewards that from his wide draw, his instructions were to set the pace on this filly which has been a front runner in its previous races.  After an adequate start, he had been able to attain a forward position, however, he had to still obtain clearance in advance of PADRE PIO (A Mgudlwa) which was also intent on leading.  Once he had obtained the lead, this filly had commenced to over-race and this resulted in him being further clear of the field than he had intended.  As a result, this filly had come under pressure in the home straight and had not finished the race off strongly.  The Stewards advised Jockey Moodley that this report would be noted, but his obligation as a professional rider is to ensure that he sets a pace which enable his mounts to close their races off in a competitive manner in future.  
Is it a way to prevent the dreaded 'crawl', so prevalent in graded races today?
Michele Wing gets it straight from 'the horse's mouth' as she speaks to trainer Justin Snaith.
‹ Previous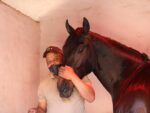 Every Bid Counts